Domæne validering SSL
Sikre dit websted om et par minutter!
Hvad er Standard DV SSL?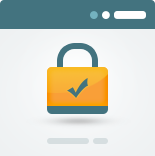 Domain Validation certifikater tilbyder en økonomisk og hurtig måde at implementere SSL på din hjemmeside. Domæne Validerede certifikater bekræfter, at du ejer domænet, men udfører ikke nogen yderligere organisationsniveau validering.
Domæne validerede certifikater er ideelle til personlige hjemmesider, blogs og sociale medier eller websteder, der ikke sender private og fortrolige oplysninger. Et Domain Valideret certifikat aktiverer browserens hængelås og muliggør brug af https for at sikre dine besøgende og kunder, at du tager deres privatliv alvorligt.
Delivered in Minutes for Instant Protection
The fastest and most affordable way to activate SSL protection for your website, issuance is quick and often fully automated.
Trust Site Seal
Our SSL Certificates come with a trust seal that has been proven to increase visitor confidence and customer conversions.
Boost your Google Ranking
Google uses SSL/HTTPS as a factor in determining search engine ranking. Add SSL today to help boost your Google ranking!
Certificate Features
Secure online transactions
99.9% Browser Compatability
Vores SSL-certifikater er fra nogle af de mest pålidelige mærker i Online Security.