Wildcard SSL
Sikker ubegrænset underdomæner på et enkelt certifikat.
Hvad er et Wildcard SSL-certifikat?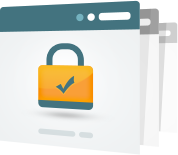 Wildcard SSL giver dig mulighed for at sikre et ubegrænset antal underdomæner på et enkelt certifikat. Det er en fantastisk løsning for alle, der er vært for eller administrerer flere websteder eller sider, der findes på samme domæne. Engangsprisen for certifikatet dækker dig for yderligere underdomæner, du kan tilføje i fremtiden.
I modsætning til et standard SSL-certifikat, der kun udstedes til et enkelt Fuldt Kvalificeret Domænenavn, f.eks. www.hjemmeside.dk, hvilket betyder, at det kun kan bruges til at sikre det nøjagtige domæne, som det er blevet udstedt til, udstedes et Wildcard SSL-certifikat til * .domæne.com, hvor asterisken repræsenterer alle mulige underdomæner.
Wildcard SSL er en mulighed for DV og OV SSL-certifikater.
Delivered in Minutes for Instant Protection
The fastest and most affordable way to activate SSL protection for your website, issuance is quick and often fully automated.
Trust Site Seal
Our SSL Certificates come with a trust seal that has been proven to increase visitor confidence and customer conversions.
Boost your Google Ranking
Google uses SSL/HTTPS as a factor in determining search engine ranking. Add SSL today to help boost your Google ranking!
Certificate Features
Secure online transactions
99.9% Browser Compatability
Vores SSL-certifikater er fra nogle af de mest pålidelige mærker i Online Security.